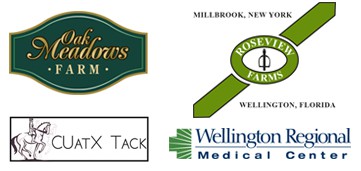 Challenge of the Americas (COTA) Partners for Pink Judy Sloan of Roseview Farms, Cece Stewart of Oak Meadows Farm, the Wellington Regional Medical Center, and Sarah and Katie Hoog of CUatX Tack equestrian boutique have first-hand knowledge of the strength and power of breast cancer survivors.
"I've had family that's been hit with breast cancer, including my sister-in-law," Sloan said. This is Sloan's second year to support COTA with a Partners for Pink sponsorship. "It's a way for my husband, David, and I to give back through a sport that we love to a cause that we feel passionate about. It's a cool format."
COTA raises funds for the Breast Cancer Research Foundation through its partner, Play for P.I.N.K., while providing a unique entertainment experience in the winter horse capital of the world, Wellington, Florida. Teams of six Grand Prix dressage riders compete in freestyle quadrilles set to music in the Team Challenge. This year, five teams will be competing for bragging rights at the March 9 event to be held in at the Global Dressage Festival show grounds.
"The Challenge of America's is an amazing experience," Stewart said. "It is just wonderful to see the equestrian community come together in support of a great cause. Like many, I have friends and a sister who have suffered from breast cancer and are breast cancer survivors. Their brave fight gives us all inspiration to fight this disease."
The medical staff at Wellington Regional Medical Center, which has a wide array of breast care services, also joined as Partners for Pink to help the cause.
"We have a very active medical staff of almost 1,000 providers and we try to work with the hospital to support projects, especially ones like this that are unique to our area," said Dr. Richard Hays, the chief medical officer at Wellington Regional. "We have such a strong connection with the equestrian community."
Sarah Hoog said she attended the first Challenge of the Americas many years ago. This year, the event welcomes its first team from abroad, Team Holland, which will compete via video. This also marks the first year that COTA will be live streamed at tv.coth.com.
"Breast cancer affects everybody," Hoog said. "We all know someone who has been affected by it, whether it's a family member, a friend or a friend-of-a-friend. It's really scary, especially being a woman. It's nice to get involved and it's nice to give back."
Both Sloan and Stewart said they love seeing the community come together for the cause.
"It's fun to watch the teams because there is a healthy, competitive energy that's infused into the event but it's all in the spirit of everyone having a very good time while banding together for a great cause," Sloan said. "It's such a positive evening. They are having a great time and they're giving back."
Stewart said becoming a Partner for Pink in support of the Challenge of the Americas is an amazing opportunity to be part of an exciting evening in support of finding a cure for breast cancer.
"It is always a lot of fun and just shows how committed the equestrian community is to fighting this disease," she said. "I am proud to part of this event."