The Challenge of the Americas is grateful to these fantastic individuals who have banded together as COTA's presenting sponsors, The Pink Hats. With their help and yours, we are funding vital research in our quest to find a cure for breast cancer.
Margaret H. Duprey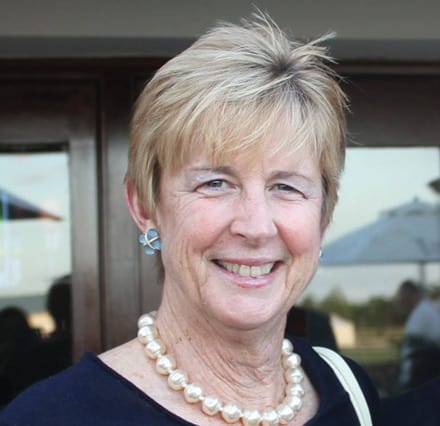 Margaret H. Duprey of Cherry Knoll Farm has been a long-time supporter of the Challenge of the Americas (COTA). Not only has she been an Honorary Chair of the event, but she also served on the COTA Board.
"It is an organization I have supported for years," she said. Duprey has family and friends who suffered from breast cancer and she's a firm believer in helping fund vital research through the Breast Cancer Research Foundation. "I think that with any of these horrible diseases, the more we learn and understand about them, the faster we'll find a cure."
Duprey is also a dressage rider and said the event's iconic dressage quadrille challenge helps bring focus to the cause. "It brings awareness to the community and to the world because Wellington is such an international equestrian destination this time of year.
"This event is important to everybody," she continued. "The Challenge helps fund the research that helps the doctors try to understand the causes of breast cancer and why some forms of cancer are more aggressive than others. The science has advanced so much in how to treat the disease and we need to continue with the advancement."
Duprey is adamant that the entire Wellington community should support the Challenge of the Americas.
"You know, everybody should come! It's a fun evening and they'll have a good time–all while benefiting breast cancer research."
---
A. Ronald Johnson and Elizabeth Stauber-Johnson, Ph.D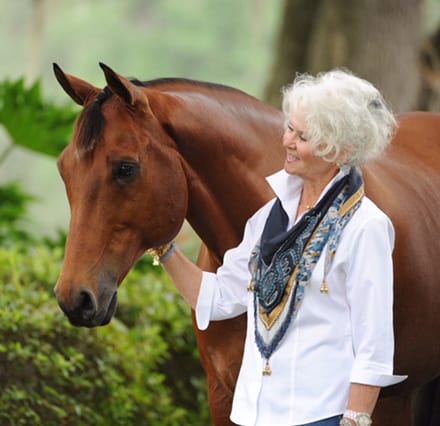 Elizabeth (aka Beth) Stauber-Johnson and her husband Ron have supported the Challenge of the Americas (COTA) since 2018, and in 2022 they upped the game by becoming founding members of The Pink Hats.
COTA's cause hits close to home for Beth and Ron: both of their mothers died from complications of breast cancer.
"It takes people who have a huge impact on our lives: our mothers, grandmothers, sisters and daughters," Beth said. "It kills. People who have an irreplaceable relationship with us–that's the people it takes.
"It is not a lesson in intelligence when confronted by the insidious, wicked and vile killer," she continued. "The only hope is to focus on the raw fight to beat it, which is becoming more and more successful through the research COTA supports."
Not only was their familial connection to breast cancer a reason for the couple's keen interest in the Challenge of the Americas, but Beth said her mother's affection for Beth's horses is another link to the event. An avid breeder and the owner of the successful Appendix Quarter Horse Larks Home Run, Beth and her mother shared their love of horses.
"She was scared to death of them but she loved being in the barn," Beth remembers. "God bless all who fought and are no longer able, and all those who fought and have survived. I will always be proud of my Mom never giving up. Never, never."
---
Mr. & Mrs. Steffen Wolff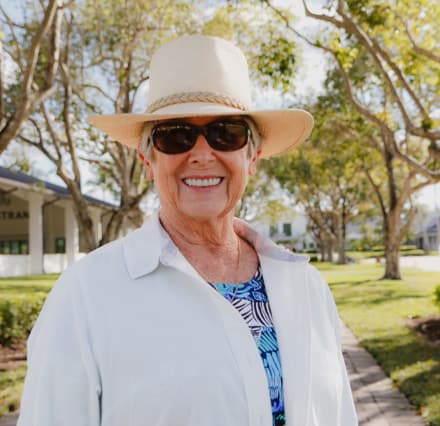 Barbara Wolfe became interested in supporting the Challenge of the Americas when she met event organizer Mary Ross. They boarded their horses at the same Wellington barn.
"And from day one, I just got such a huge kick out of her," she said, adding that the first Challenge she attended was held in White Fences in Loxahatchee, Florida, when the event was in its infancy. It was a hot but lovely day and loads of fun.
"I'm just so grateful to Mary for doing this," she said. "She puts her heart and soul into this in honor of her mother. I love the event and it happens to be a wonderful, wonderful philanthropy."
Barbara is a breast cancer survivor and believes there are many other survivors who would not be alive today without the help of the Breast Cancer Research Foundation. Interestingly, her mother and grandmother's generation weren't diagnosed with the disease but family members in her generation have been. "I lost my sister to it a couple of years ago," she said. Her cousin and her cousin's daughter were also diagnosed with breast cancer.
In Barbara's case, it was found very early. Through testing, she learned that, although the tumor was small and caught early, it was extremely aggressive. She credits well-funded research with her diagnosis and successful treatment.
Barbara's advice is simple, "Everybody should get their mammograms." Her sister didn't keep up with annual mammograms and she found out too late. "She just didn't do it. She didn't do it."